South Africa Special - Package 6
Couples/Family Package - 7 full days hunting
5 Animals
Kudu - Impala - Warthog - Blesbuck - Springbuck
(click on thumbnails to enlarge)






| | |
| --- | --- |
| Tour Code: OSA6 | Length: 7 Days |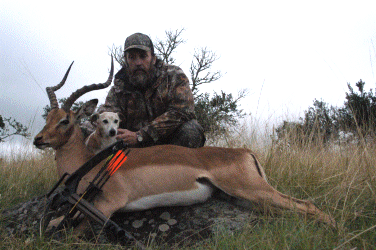 Africa is one of the few hunts in the world where the ladies and children are not only more than welcome but also will have a great time. This package is designed with the whole family in mind. The 5 animals can be shared between the couple or the entire family or can be taken by one hunter. As always children under 18 are free.
We are highly supportive of youth hunting and the family experience and offer this package to our clients making it possible to enjoy Africa together.
The package also includes all meals, accommodations, airport transfers, PH (Professional Hunter), trackers, skinners, taxes, field prep of trophy's, and even beer, wine & daily laundry. There are no hidden charges, the only extras would be flights, tips, and taxidermy/shipping. All our hunts are strictly fair chase on over 500,000 acres near East London, South Africa. This is not a game farm or pen hunt. Rifles, bows and pistols welcome. Hunt is actually 9 days as the arrival day and departure day are included in the cost but do not count against your hunting time. As with all of our packages all children 18 and under can accompany an adult free and they can share in the animals from the package. Additional animals can always be taken as per the trophy list.
Our full time staff in the US will assist in every aspect of planning your safari. We are able to provide wholesale flights, as well as assist with all other travel arrangements, gun permitting, etc. After the hunt we have our own full service taxidermy shop in house and will either dip, pack & ship to your personal taxidermist or mount your trophy's and ship them to your door. No doubt during this entire process you will have many questions, we are available to answer them with the convenience of a toll free call or email at any time. During the whole process you will deal with one person that takes care of every detail. We have been working in African for 20+ years and look forward to being at your side throughout the entire experience!
As always this package includes:

All accommodations

all meals

Airport transfers

1 PH per couple/family

Trackers/Skinners

Field prep of trophys

local beers/wines

Soda

Daily Laundry

Animals:
1 Kudu

1 Impala

1 Blesbuck

1 Springbuck

1 Warthog

7 full days hunting

1 PH per couple/family
Additional animals can be purchased off the
trophy list
below. Remember we also have quality
game viewing on our properties and can easily accommodate families that have hunters and non hunters. The cost per couple is $4000.00 Children under 18 free.
COSTS

Per Couple
US$4400
Children under 18 stay free






With us both your deposit and final payment are completely refundable at any time, for any reason, right up until the moment you are to step on the plane. We will not take your money if you cannot come hunt with us!

The above package includes the following:

Accommodation
all meals & laundry
Local wines, beer, spirits, soft-drinks, cordials & teas/coffees
Round trip airport transfers
Services of a fully licensed, experienced Professional Hunter
Trackers, skinners & camp staff
Field preparation for trophys included
Transport during your safari in 4-wheel drive vehicle
1 Eastern Cape Kudu, 1 Blesbuck, 1 Impala, 1 Warthog, 1 Springbuck
Additional animals available on request (additional cost)

The above package does NOT include the following:

International air (We have access to wholesale rates and will be happy to give a quote upon request)
Dipping & Packing of Trophies/Taxidermy/shipping
Airline/Air Charter costs if necessary
Firearm and ammunition rental. ($25.00 PER DAY. Highest quality rifles and optics)
Additional travel in Africa
The above package excludes any airfare, departure taxes, visa fees, or items of a personal nature.

NOTE ON ALL PACKAGES: There is no refund for any animals not taken while hunting on a package. All animals wounded but not recovered count against animals in package. We will make every effort to recover your trophy. We have some of the best trackers in Africa as well as some of the best tracking dogs you will ever see. Very few get away! Also please note that there is no charge for the day you arrive and the day you depart. For example for example a 7 day hunt is actually 9 days as we pick you up at the airport and return you with everything taken care of in-between. You only pay for the time you are in the field hunting. At all times we treat you like a member of our family.

Click here to access our Frequently Asked Questions for African Hunting page

NEW! For the ladies and non hunters:

We have always believed that Africa should be experienced as a couple or a family. We have designed our lodges and maintain the private reserves that they are located on with your non hunters in mind. At each of our lodges you will find the highest standards of accommodation and cuisine as well as a good mix of wildlife for the overall African experience. On our properties we have just about every species of African animal right out your front door. This includes rhino, herds of buffalo, leopard and many species of planes game. Game viewing is often best right from the swimming pool! We also have blinds and observation areas set aside for those who whish to do photography and bird watching. The restoration efforts on our properties have led to an abundance of flora and fauna. There is always something going on in the bush! With us non hunters are also always welcome out on the hunt. Remember this is your private hunt with private guide and vehicle. Many of the ladies will accompany us in the bush and become part of the team helping spot animals and recording the hunt on video or in pictures. (Through the years we even have had a number of non hunters take their first animal with us!) We also realize that this may not be for everyone. One great advantage we have is that our lodges are not located hours out in the bush completely away from civilization. While our hunting areas are far away from the towns we are not that far away that we can pop in for a visit! Most of the activities listed below are within an hours drive or less from one of our lodges and they make excellent day trips for the non hunters. We can also organize pre and post hunt itineraries for the entire group such as Cape Town or Victoria Falls and Chobe. Contact us for details.

ADDITIONAL NON-HUNTING ACTIVITIES

Below we have some of the many additional non hunting activities that we offer from our lodges. At many hunting lodges the ladies find themselves isolated out in the country with nothing much to do during the hunting days. This is not the case with us! Our hunting area is unique in that we are not located out in the countryside hours away from towns and civilization. We can offer many activities from classic photo safari to golf and even skydiving! All of this and more can be found a short drive from our lodges. We have always believed that Africa is to be experienced as a family. This is one hunt were the non-hunters have more fun then the hunters! While you are off stalking game your non-hunters will be on the holiday of a lifetime. Below is a short list of possible options. If you have other interests then please let us know and we will design a program just for you!

Testemonials:

Ken writes:

Dear Ed,

I am very anxious to get my animals back and get started on mounting them. I will definitely send you pictures of them as I finish them up.

Thanks again.

Ken B.

Gene B reports:

The trip was very enjoyable for all (myself, my wife and son). My wife, although not a hunter, enjoyed seeing the other wildlife, zebras, giraffes, rhinoceros, as well as others that she was able to photograph. When we moved between lodges we were treated to the museum in King Williams Town, a very learning experience about the history of the area. When we had completed our hunting, on the day of departure Dave B. took us to the Lion Park where we were able to spend a couple hours, there were two white lion cubs, very playful, as well as other animals that are native to South Africa.

We spent three days at the kudu lodge where PH (Professional Hunter, Dave B) was very eager to make our stay and hunting experience as enjoyable as possible, I was able to fill all of the requirements of the package that were available there: a Kudu, a Bushbuck, an Impala and a Springbuck, all very nice trophies. We then moved a short distance north where we hunted for Blesbuck, both my son and myself were able to get trophies, then I was able to add a Blue Wildebeest to the trophy collection.

The staff and PH's were very professional as well as very helpful, Dave B made every effort to locate quality animals for us to harvest. He was very helpful in determining if the animals sighted were of above average quality. Since the Bushbuck is a very elusive and hard to find animal he put in the extra effort needed to locate this animal, even when we had spent a number of hours in the search.

Overall everyone enjoyed the safari immensely, we are currently making plans to return in the future.

Lodging photos

- Click on a photo below to enlarge:

Home Farm:

General information:

Hunting Africa is the lifelong dream of many sportsmen. We have designed our packages to bring Africa within reach of everyone. This hunt takes place in the Eastern Cape area of South Africa. This is a region of varied terrain from fertile valleys to steep mountains. It is home to large numbers of game. The Karoo is cattle and sheep country much like the American South West. Many of the farmers allow us to manage game on their property for extra income. Eighty percent of our hunting takes place on the open range with standard cattle and sheep fencing. The other twenty percent is on high fence ranches. Certain species can only be hunted year round in a high fence area, thus we need to use these properties as well.

All of our hunting is strictly fair chase. Our primary method is spot and stalk. We have blinds and tree stands as well and hunt with rifle, bow, pistol and black powder. We have farms designated bow only. We do not hunt from vehicles or in pens! Also we are not tied to one property. Our home farm of 5000 acres serves as a base from which we access over 250,000 acres of prime hunting land leased exclusively by us.

Trophy quality is guaranteed because of our trophy game management policies. Only mature animals are taken and a limited quota is set for each property. This allows a large number of animals on the land and also gives them time to mature into the quality trophies you seek. Our animals are all natural production and not bought at action and stocked. Our exclusive leases with landowners assures that we are the only ones taking the prime specimens off their properties. Seasons are reversed in South Africa from North America. May-August is winter and temperatures can get quite cold. Perfect hunting weather! Nov through March has warm to hot days followed by warm evenings. We usually hunt early and late this time of year with plenty of time to relax during the day.

On our hunts you will be accompanied by a certified professional hunter. This will be either one client and one PH or two clients and one PH depending on how you want it. We NEVER mix groups! Even if there is only one of you, you will have exclusive use of the lodges during your hunt and not be mixed with hunters that you do not know. We have four different lodges at our disposal and often move between them depending on what species you are hunting. As stated above we are not tied to one property like many other operations and can move to were the best specimens of the species you are hunting are located.

Our lodges vary from an authentic bush lodge with thatched roof cabins to a very comfortable former South African farm house with all the modern convinces. Africa is literally out the front door. All meals will be prepared by our staff and include many wild game dishes as well as homemade salads and deserts. You will not go hungry! We include all soft drinks, juices, water and tea and coffee as well as local beer and wines. We pride ourselves on offering not only a great hunt but also a complete experience including great food, good company and many additional features that others charge extra for.

Non-hunters are more than welcome! We encourage our clients to bring their families and offer a non hunting rate that reflects this. If your non hunter does not want to follow you in the field many optional tours can be arranged. We have many opportunities from camera safari to spas and golf. We will be glad to put together an exciting program of day trips from the lodge for the non hunter.

| | | |
| --- | --- | --- |
| Species | Male | Female |
| Baboon | $150.00 | $150.00 |
| Bontebok | $1,200.00 | NA |
| Blesbuck | $300.00 | $125.00 |
| Blesbuck, White | $700.00 | $700.00 |
| Bushbuck, Eastern Cape | $600.00 | NA |
| Bushpig (bait or dogs) | $900.00 | $900.00 |
| Crocodile | $6,000.00 | $6,000.00 |
| Duiker, Blue | $1,200.00 | $1 200.00 |
| Duiker, Grey | $300.00 | NA |
| Fallow Deer | $600.00 | $250.00 |
| Grysbuck, Cape | $800.00 | NA |
| Gemsbuck | $1,200.00 | $1,200.00 |
| Hartebeest, Cape | $800.00 | NA |
| Hippo | $8,000.00 | $8,000.00 |
| Impala | $300.00 | $125.00 |
| Jackal, Black Backed | $100.00 | $100.00 |
| Kudu, Eastern Cape | $900.00 | NA |
| Lynx (Caracal) | $900.00 | $900.00 |
| Nyala | $2,200.00 | NA |
| Oribi | $1,200.00 | NA |
| Ostrich | $600.00 | NA |
| Reedbuck, Mountain | $300.00 | NA |
| Steenbuck | $300.00 | NA |
| Sable | $14,000.00 | NA |
| Springbuck, Common | $300.00 | $100.00 |
| Springbuck, White | $900.00 | NA |
| Springbuck, Golden | $1,800.00 | NA |
| Springbuck, Black | $450.00 | NA |
| Warthog | $300.00 | $150.00 |
| Wildebeest, Black | $900.00 | $425.00 |
| Wildebeest, Blue | $750.00 | $425.00 |
| Zebra, Burchells | $1,200.00 | $1,200.00 |
| Eland, Cape | $2,200.00 | $1,500.00 |
| Lechwe | $2,500.00 | NA |
| Reedbuck, Common | $1,200.00 | NA |
| Rhebuck, Vaal | $800.00 | NA |
| Waterbuck | $2,200.00 | NA |

Day Fee: 1 x 1 US$ 350.00, 2 x 1 US$ 290.00

Buffalo: 2 Days $700-00 per day.
Trophy fee $13 500-00.

Lion: (Captive Bred and released): 2 days included.
Trophy Fee from $17 290-00 to $50 000-00.

Lioness (Captive Bred and released) :Trophy Fee $5500-00. 2 x days at US$300 per day.

White Rhino Hunt: From $2 800-00 per inch
2 Days $700-00 per day

White Rhino Green Hunt: 2 Days $700-00 per day Trophy Fee $4 280-00 (Replica shoulder mount US$2 500)

Leopard Min 14 Days $1 000-00 per day. Min 14 Days
Pre-baiting $1 700-00
Trophy Fee $3 990-00.

Black Rhino : From US$140 000.00
Elephant : From US$30 000.00

The following are included in your Safari:

<![if !supportLists]> · <![endif]> All accommodation, food and beverages

<![if !supportLists]> · <![endif]> Services of a licensed professional hunter, tracker and ground staff

<![if !supportLists]> · <![endif]> Transport to and from the airport as well as all ground transport for the duration of the Safari

<![if !supportLists]> · <![endif]> Field preparation of trophies and forwarding them to a taxidermist or shipping agent of your choice.

The following are excluded in your Safari:

<![if !supportLists]> · <![endif]> Dipping, packaging or any processing of trophies

<![if !supportLists]> · <![endif]> Shipping charges for your trophies to your own country

<![if !supportLists]> · <![endif]> Gratuities



TAXIDERMY

The question of taxidermy always come up with any hunting package. We have our own in-house taxidermy shop that you will be able to visit on your hunt. It is located at our Kudu Lodge. We only work on animals from our hunters and do not take in outside work. Your trophies never leave our possession so we are able to supervise them at every stage of the taxidermy process. There are two basic ways most animals are processed. First you can have the animals dipped, packed and shipped to your taxidermist back home. This process brings the completely dried hides and cleaned skulls to your facility were the maintaining process will begin. It takes around 3-4 months. The second option is to have the animals mounted by us and then shipped directly to you. This process takes between 9-12 months. Trophies are ready to go up on the wall when they arrive. Which ever option you choose we have a logistics firm that will handle all the shipping and paperwork for the process so you will not be bothered with all the details. Prices below are for the taxidermy services ONLY and do not include the crating, shipping, brokers, etc. You will get a final quote on these services once the animals are ready to ship. As hunters ourselves we realize how important the taxidermy process is to the overall experience of the hunt. Having our own facility to process your trophies allows us total control over the entire hunt so we can assure our clients nothing but the best in quality and service! Feel free to call us with any questions at any time as well as for updates on your mounts. Unlike many others where you would be dealing with a taxidermist who you never met and who can be difficult to get a hold of in a different country, you can call us any time and we will answer questions and be able to get updates on your trophies as well as be at your side during the shipping process.

Hunt well!

OffHunting.com Staff



TAXIDERMY PRICES

Click here for our Taxidermy Price List

What people are saying about their EAI taxidermy experience:

Mark reports:

I just wanted to let you know that I received my animals yesterday afternoon and everything made it in great shape. I was very impressed how everything was wrapped in bubble-wrap so that nothing could get rubbed or damaged. Opening that crate was kind of like Christmas morning and opening all the presents. I can't wait to get started on my mounts but will have to wait for a while until I get everyone else's stuff done.

I am seriously looking to come over again in 2012. I would really like to make it a late April – early May hunt again. It seemed like that timeframe was very good for hunting and the weather. I will keep you posted.

I am working on several friends and family to come over with me this next time. I keep telling them it is a hunt unlike anything you will ever get from a hunt around here and will be at the top of the list of hunting experiences they will ever have.

Thanks again for everything.

Chris reports:

I had the best time ever hunting South Africa. Allen is a fantastic PH, I really enjoyed hunting with him. Allen put me on some fine trophys. Every thing was just as you said it would be. I was treated execptionally well by every one. I love Africa

and can't wait to go back. We hunted hard every day and Allen made sure I took all the game I was after and then some. I can't say enough about what fantastic PH and host Allen was. When I tell my hunting stories to customers, they want to know who I hunted with. I am highly recomending you. You should sent me cards and hand outs that you take to shows. I will be glad to send my customers to you. I just had the best time. I took around 2500 photos.

Thanks Ed, the hunt was outstanding. Here are some photos, I will be happy to send more if you like.

Thanks again.

Chris

Prices subject to government taxes/levies or prices beyond our control. Prices and programs are subject to change without notice. All prices quoted in US dollars. For booking information, liability waiver, and terms and conditions contact us.