Best of Quebec - Spring Bear Hunting
| | |
| --- | --- |
| Tour Code: CAN1 | Length: Weekly |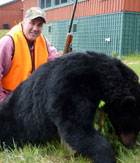 We are located about 4 hours north of Ottawa and have an exclusive hunting territory of over 270 sq kms. Our area has a very high bear density and no outside hunting pressure. We have bears!
We take a maximum of 8 hunters per week and only hunt the four prime weeks of the season. These are the last week in May and the first three weeks of June. Bears are very active at this time seeking food sources as natural foods are scarce. We will begin baiting in April as soon as the bears come out of hibernation and maintain approximately 50 different bait sites over our extensive private area. This massive effort assures you of the highest possibility of success. We have run over 95% harvest over the last five years!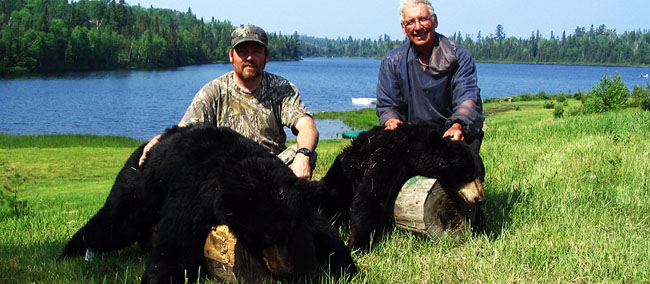 If you are looking for a high quality hunt this is it. Fishing is also outstanding at this time of year. We can include boats and motors in your package. We also have a full service lodge with bait shop and grocery store as well as comfortable private cabins with all the amenities. Cabins have full kitchen if you prefer to do your own cooking or you can take our meal plan and have three gourmet meals per day in our dining room. This simply is spring bear hunting at its best!!!!
Costs
| | |
| --- | --- |
| Lodging, baited stand, bear license and skinning: | $1550 per person, per week |
| Above with fishing license, boat, motor and gas: | $1775 per person, per week |
| All above with meals included: | $2150 per person, per week |
Lodging
The main reception area is composed of the main lodge which houses the bar, grocery store, kitchen, dining room and office. It is from here that we will guide you to your chosen fishing or hunting area.
Thirteen cabins are located around the main lodge as well as a fully heated in ground pool. All have electricity 24 hours a day, inside toilet, shower, separate rooms, living area and fully equipped kitchen.
Most, if not all of our clients, are unanimous to say that the services and equipment are excellent. What we aim for is...excellence.
Click on photos to enlarge