Buffalo Hunting: Trophy Bison Hunt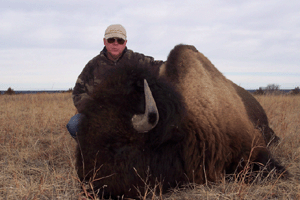 [click photo to enlarge]
The ranch is located in the panhandle of Nebraska just 45 minutes north of Interstate 80 near Oshkosh, Nebraska. This ranch is home to 4000 bison roaming on 85,000 acres of rugged sandhills. We hunt the prime 6-10 year old bulls with truly trophy heads.
Included in the hunt is all the meat, head and hide. We will deliver the animal to the processor in Grant, NE or we will offer a trade where we will have a comparable animal already processed and ready to go. The head will be caped and delivered to a taxidermist or prepared for the hunter to take with them.
Two nights lodging is included with the Trophy Bison Hunt and 3 nights lodging with the Trophy Archery Hunt. These hunts include meals and on ranch transportation. Additional guests are $75.00 per day. Please note that processing will take 3 to 4 days depending on when the animal is delivered to the processor. We can arrange other hunting opportunities depending on the time of the year. Another option is to stop and hunt on your way out west and pick up your processed animal on your way home.
There are a limited number of younger bulls that need to be harvested. These are 3-4 year old bulls that were kept as breeding bulls but didn't make the cut and offer very good heads but not the size of the trophy bulls. These bulls are very comparable to what some ranches harvest as trophies. On this hunt we offer the head, hide, and all the meat but it is up to the hunter to take care of the processing. We can offer a facility to skin and quarter the carcass or we can just load the animal in your vehicle to take with you. When taking the carcass of even a management bull please remember that there is a lot of meat. Carcasses can weigh from 600 lbs for a management bull up to 1000 lbs for a trophy. This hunt does not include lodging or meals but can be added.
Our season will generally run October 1 through the end of February.



Nebraska Bison hunts:

Trohpy bull 7-10 years old and around 2000lbs $3750.00 (bow 3850)

Managment bull 4-7 uyears old nad around 1600 lbs: $2400.00 (Bow 2500)

Cows and heaifers 900-1200 lbs $1000.00 (Bow $1100)



---
All hunts include guiding and transportation on the ranch. Trophy hunts include delivery of animal to the processor and delivery to a local taxidermist if desired. Facilities are available at the ranch to skin and break the carcass if needed.
Price does not include sales tax, meals, alcohol, meat processing, taxidermy, transportation to or from the ranch, guide gratuities, or anything else not listed above. Any animal that is wounded but not recovered is a harvested animal and the hunt is considered complete.
Bison hunting is not regulated by the State of Nebraska so no permit is necessary.
We can customize a hunt to fit your needs and do offer group discounts.
Booking/Cancellation: 50% due at booking to ensure desired dates. Balance due on arrival and any cancellation more than 30 days prior to hunt will be credited to a future hunt.
Bison Meat Hunt
(These hunts must be conducted in conjunction with another hunt like the Management Hunts)
Cull cows are available for meat hunts and you get the head, hide, and all the meat. These are mature cows with generally excellent hides and very lean meat. We will load the harvested animal for you and we can provide an area to skin and quarter it if desired. If you need to have the animal processed we can put you in contact with a local processor. Expect weights around 900 lbs. on the hoof.
Bison Cow Meat Hunt: $1300 for 1 day hunting with guaranteed shot rifle/muzzleloader only.